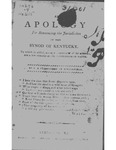 Description
An Apology for Renouncing the Jurisdiction of the Synod of Kentucky. To which is added, a compendious view of the Gospel, and a few remarks on the Confession of Faith.
By Robert Marshall, John Dunlavy, Richard M'Nemar, Barton W. Stone, John Thompson
The Apology and other remarks related to it are from The Biography of Eld. Barton Warren Stone, Written by Himself, with Additions and Reflections. (Cincinnati: American Christian Publication Society, 1853) 147-247.
The date of the publication of the pamphlet is January 31, 1804, per the poorly preserved title page on the DCHS microfilm.
Publication Date
1-31-1804
Keywords
Foundational Documents of the Stone-Campbell Movement, Barton W. Stone, Presbytery of Springfield, John Thompson, John Dunlavy, Richard McNemar, Robert Marshall, An Apology for Renouncing the Jurisdiction of the Synod of Kentucky, Controversial Documents of the Stone-Campbell Movement
Recommended Citation
Stone, Barton Warren; Marshall, Robert; Thompson, John; Dunlavy, John; and McNemar, Richard, "An Apology for Renouncing the Jurisdiction of the Synod of Kentucky." (1804). Foundational and Controversial Stone-Campbell Movement Documents. 17.
https://digitalcommons.discipleshistory.org/all_foundationaldocuments/17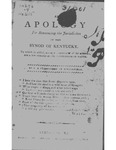 COinS