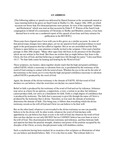 Description
Daniel Sommer, An Address
This is the written version of Daniel Sommer's one hour and forty-minute speech/address at Sand Creek, Illinois, on August 18, 1889. The original appeared in the Octographic Review (Volume 32, Number 36), September 5, 1889, pages 1, 5, 8.
This PDF was created from the web page on the Hans Rollmann site, first at Memorial University of Newfoundland and now at Abilene Christian University:
https://webfiles.acu.edu/departments/Library/HR/restmov_nov11/www.mun.ca/rels/restmov/texts/dsommer/address.html
Accuracy of the transcription confirmed by viewing the microfilm of the original.
Keywords
Danial Sommer, Address and Declaration, Octographic Review, Division in Stone-Campbell Movement, Sand Creek, Illinois, Instrumental Music Controversy
Recommended Citation
Sommer, Daniel, "Daniel Sommer, An Address" (1889). Foundational and Controversial Stone-Campbell Movement Documents. 3.
https://digitalcommons.discipleshistory.org/all_foundationaldocuments/3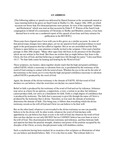 COinS