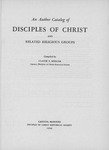 Description
An Author Catalog of Disciples of Christ and Related Religious Groups
From the introduction:
This catalog grew out of necessity. In 1924 the Library of Culver-Stockton College started a project to collect the literature produced by the religious groups which grew out of the reformation and restoration movements in the American religious scene in the early nineteenth century. The project was handicapped from the start because of a lack of bibliographical tools which gave knowledge concerning the books and pamphlets that had been published. The Literature of the Disciples, a study by J. W. Monser, 1906, and The Literature of the Disciples of Christ by W. E. Garrison,1922, were available but were far from comprehensive in scope and lacked the details necessary for use as collecting and cataloging guides.
For several years the compiler worked on a want list, adding new titles as he found items in catalogs and periodicals; always making as complete an entry as possible for each title. This want list combined with the catalog of books in the college library became the nucleus of An Author Catalog of Disciples of Christ and Related Religious Groups. At first there was no intention to publish this listing as it was compiled solely for use in The Henry Barton Robison Collection, the name by which the collection of Disciple literature at Culver-Stockton was known.
In 1941, the Disciples of Christ Historical Society was organized and the compiler became the curator of the Society with instructions to start the preparation of a union catalog of Disciple materials located in the various libraries in connection with Disciple institutions. The publication of this book is a step in that direction as it will be used in checking the holdings of Disciple institutions. In addition, the compiler hopes that the volume will be valuable as a guide for purchasing and cataloging.
Publisher
Disciples of Christ Historical Society
Keywords
Stone-Campbell Movement Bibliography, Stone-Campbell Movement Monographs, Claude E. Spencer, Disciples of Christ Historical Society
Recommended Citation
Spencer, Claude E., "An Author Catalog of Disciples of Christ and Related Religious Groups" (1946). Stone-Campbell Movement Monographs. 5.
https://digitalcommons.discipleshistory.org/all_monographs/5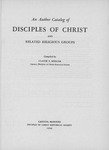 COinS