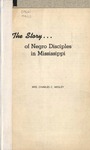 Description
The Story of Negro Disciples in Mississippi
Mrs. Mosley, a graduate of Jarvis Christian College, Hawkins, Texas, briefly documents the history of a few of the earliest African American congregations in Mississippi.
She also provides details about the 1887 founding of the Mississippi State Convention. This was an African American convention, with African American leaders.
The Mississippi Christian Missionary Convention began in 1884. William Ramey, an African American preacher from Hemingway, Carroll County, attended the inaugural meeting of the MCMC at Winona, Mississippi.
Publisher
Mrs. Charles C. Mosley
Keywords
The Story of Negro Disciples in Mississippi, Mrs. Charles C. Mosley, Jarvis Christian College, Southern Christian Institute, William Ramey, James G. Keys (Keyes), Mississippi Christian Missionary Convention
Recommended Citation
Mosley, Mrs. Charles C., "The Story of Negro Disciples in Mississippi" (1950). Stone-Campbell Movement Monographs. 6.
https://digitalcommons.discipleshistory.org/all_monographs/6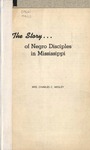 COinS