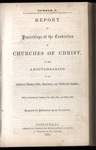 Description
[1854] Report of Proceedings of the Convention of Churches of Christ at the Anniversaries of the American Christian Bible, Missionary, and Publication Societies.
Held in Cincinnati, October 17th, 18th, 19th and 20th, 1854. Prepared for Publication by the Secretaries.
Address by Vice President of the A. C. M. S., Walter Scott, on pages 26-42.
Publisher
American Christian Publication Society
Keywords
American Christian Missionary Society, Alexander Campbell, American Christian Bible Society, Cincinnati Christian Tract Society, David Stats Burnet, Benjamin Franklin, The Christian Age, Thomas Jefferson Melish, W. K. Pendleton, American Christian Publication Society, Walter Scott
Recommended Citation
Irvin, William C., "[1854] Report of Proceedings of the Convention of Churches of Christ at the Anniversaries of the American Christian Bible, Missionary, and Publication Societies" (1854). American Christian Missionary Society Proceedings. 6.
https://digitalcommons.discipleshistory.org/americanchristianmissionarysociety_proceedings/6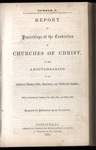 COinS