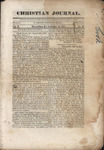 Christian Journal, Volume 2, Number 27, September 16, 1843
Description
Christian Journal, Volume 2, Number 27, September 16, 1843
This is a sixteen-page weekly.
Robert French Ferguson (1790 - 1862) is editor.
Notable items in this issue are by H. T. Anderson; Part 13 of a discussion between James Shannon and N. L. Rice on the New Birth; and a list of agents in Kentucky for the Christian Journal.
This paper has been withdrawn.