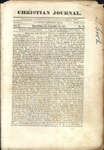 Christian Journal, Volume 2, Number 28, September 23, 1843
Description
Christian Journal, Volume 2, Number 28, September 23, 1843
This is a sixteen-page weekly.
Robert French Ferguson (1790 - 1862) is editor. Samuel M. Scott (1777-1852) seems to function as associate editor but is not so identified.
Notable items in this issue: articles by H. T. Anderson; an autobiographical sketch by Benjamin Franklin Hall (1803-1873) for the mid-1820s; list of agents for the Christian Journal in states other than Kentucky.
This paper has been withdrawn.