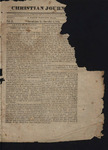 Description
Christian Journal, Volume 2, Numbers 34-37, November, 1843
This is a sixteen-page weekly. The page numbers for November are 161 - 224.
The DCHS copy of Issue 34 is very fragile, with missing areas.
Robert French Ferguson (1790 - 1862) is editor. Samuel M. Scott (1777-1852) seems to function as associate editor but is not so identified.
Notable items in the issues for this month:
- Proposals for publishing two new periodicals: the Christian Review at Nashville, Tennessee; the Christian Advocate & Messenger at Jonesborough, Tennessee.
- death of the "Voice of Truth" edited by "Friend Bailey"
- Henry T. Anderson responds to a Methodist, Edward Stevenson
- Anderson, in two replies, addresses J. W. Cox's views on Ordination
- Cox holds forth on "The Spirits of the Age"
- R. C. Rice reports on a debate between J. B. Lucas (Reformer) and Mr. Wilson (Methodist)
- the case of Presbyterian William R. Preston, who communed with "Reformers," fills pages 193 - 200
-T. J. Melish writes on "The Missionary Spirit"
- "Thinker" writes on Organization
- Carroll Kendrick writes on "The Duties of Bishops"
- J. W. S. Merrill reports on a trip to Alabama and Mississippi
- John M. Bramwell explains why he was concerned with W. J. Barbee's views toward Universalism
Publisher
Christian Journal
City
Harrodsburg, Kentucky
Keywords
Robert French Ferguson (1790-1862), Christian Journal, Weekly Stone-Campbell Movement Periodicals, Samuel M. Scott (1777-1852), Ordination in Stone-Campbell Movement, William James Barbee (1816-1892), Josiah W. Cox (1821-188), John M. Bramwell, J. W. S. Merrill, Carroll Kendrick, Thomas Jefferson Melish, William R. Preston, R. C. Rice, J. B. Lucas, Henry T. Anderson
Recommended Citation
Ferguson, Robert French, "Christian Journal, Volume 2, Numbers 34-37, November, 1843" (1843). Christian Journal (Harrodsburg). 8.
https://digitalcommons.discipleshistory.org/christianjournalharrodsburg/8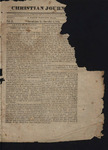 COinS