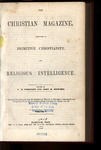 Description
Christian Magazine, Volume 5 (January to December 1852)
The April issue has the controversial article by Ferguson on preaching to the spirits in prison (1 Peter 3:18 - 4:6). Ferguson is ready to resign as editor of the Christian Magazine but stays on for Volume 6.
This bound volume has the Extra where Ferguson reprints the articles by Alexander Campbell in the Millennial Harbinger and gives his answers to Campbell.
We are posting the Extra as a separate item.
Publisher
John T. S. Fall
City
Nashville, Tennessee
Keywords
Christian Magazine, Jessie Babcock Ferguson, Stone-Campbell Movement Periodicals, John R. Howard, John T. S. Fall, John Eichbaum, Benjamin Franklin Hall, James J. Trott, Preaching to Spirits in Prison, Alexander Campbell, 1 Peter 3:18 - 4:6
Recommended Citation
Ferguson, Jessie Babcock, "Christian Magazine, Volume 5 (January to December 1852)" (1852). Christian Magazine. 4.
https://digitalcommons.discipleshistory.org/christianmagazine/4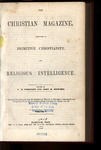 COinS