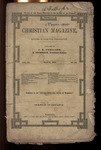 Description
Christian Magazine, Extant Covers for Volume 3, 1850
These covers from issues in 1850 have content that is not always available in the issues themselves.
We note, for example, receipts and agents are on the back cover of the May, 1850 issue.
The back cover of the December 1850 issue mentions the Commencement at Franklin College and the proposal by John R. Hoard to publish the Bible Advocate and Christian Investigator at Jackson, Tennessee.
Publisher
John T. S. Fall
City
Nashville, Tennessee
Keywords
Christian Magazine, Jessie Babcock Ferguson, Stone-Campbell Movement Periodicals, John R. Howard, John T. S. Fall, Franklin College, Agents for the Christian Magazine, Subscribers to the Christian Magazine
Recommended Citation
Ferguson, Jessie Babcock, "Christian Magazine, Extant Covers for Volume 3, 1850" (1850). Christian Magazine. 7.
https://digitalcommons.discipleshistory.org/christianmagazine/7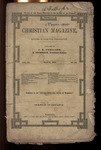 COinS