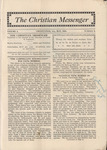 Description
Christian Messenger, Cheneyville, Louisiana Volume 1, Number 9 (May 1928)
"Published in the interest of the Churches of Christ in Louisiana."
Marion Browning (1872-1945) editor. Browning ministered in Cheneyville for at least eight years (Wilson, The Disciples of Christ in Louisiana 1826-1860 39)
This was an independent Christian Church/Churches of Christ publication rather than a cappella Churches of Christ. Browning mentions the Restoration Herald and expresses dissatisfaction with agencies.
Publisher
Cheneyville Church of Christ
City
Cheneyville, Louisiana
Keywords
Marion Browning, Churches of Christ in Louisiana, Cheneyville Church of Christ, Cheneyville, Louisiana, Instrumental Churches of Christ in Louisiana, Louisiana Stone-Campbell Movement Periodicals
Recommended Citation
Browning, Marion, "Christian Messenger, Cheneyville, Louisiana Volume 1, Number 9 (May 1928)" (1928). Christian Messenger (Cheneyville, Louisiana). 2.
https://digitalcommons.discipleshistory.org/christianmessengercheneyville/2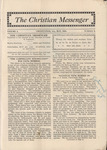 COinS