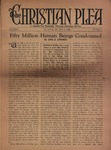 Description
Christian Plea, Volume 6 (October 1933 - August 1934)
The Christian Plea is published semi-monthly in this volume. The DCHS collection only has eleven of the twenty-four issues. The numbering of our issues hints that less than twenty-four issues were published.
Andrew Cailloux Chichon, who has past affiliations with Southern Christian Institute and the Christian Theological and Industrial College in Palestine, Texas, reports on a meeting at Cobden, Illinois. (6.1 (October 1, 1933) 5).
Ira Simon Ashe (1876 - 1971) sends a contribution for the Christian Plea.
"Historical Sketch of Missionary Work" by Mrs. Sarah L. Bostick on pages 6 - 8 of 6.4 (November 15, 1933) covers her work from 1896 to 1933.
Publisher
National Christian Missionary Convention
Keywords
Andrew Cailloux Chichon, Ira Simon Ashe, Sarah L. Bostick, African American Periodicals, National Christian Missionary Convention of the Churches of Christ, Stone-Campbell Movement Periodicals, United Christian Missionary Society, Christian Plea, Warren Brown, St. Louis, Missouri
Recommended Citation
Brown, Warren, "Christian Plea, Volume 6 (October 1933 - August 1934)" (1933). Christian Plea. 14.
https://digitalcommons.discipleshistory.org/christianplea/14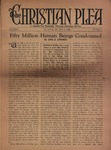 COinS