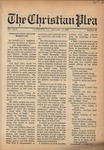 Description
Christian Plea, Volume 46 (January - December 1939)
With the October 18, 1939, Issue, we note these changes:
Merl R. Eppse replaces C. H. Dickerson as Editor.
The number of pages increases from twelve to sixteen in two of the three remaining issues of the year.
The paper is smaller in size and of higher quality.
Eppse feels the paper needs to be less focused on African American news and issues.
Publisher
National Christian Missionary Convention of the Churches of Christ
City
Lexington, Kentucky and Nashville, Tennessee
Keywords
Nashville, Tennessee, Merl R. Eppse, Lexington, Kentucky, C. H Dickerson, African American Periodicals, National Christian Missionary Convention of the Churches of Christ, Stone-Campbell Movement Periodicals, United Christian Missionary Society, Christian Plea
Recommended Citation
Dickerson, C H. and Eppse, Merl R., "Christian Plea, Volume 46 (January - December 1939)" (1939). Christian Plea. 19.
https://digitalcommons.discipleshistory.org/christianplea/19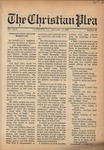 COinS