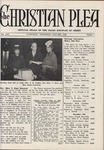 Description
Christian Plea, January - December 1946 (Volume 53, Number 5 - Volume 54, Number 4)
Merl R. Eppse continues as Editor.
On page 2 of the January issue, D. I. Reid notes two African American periodicals that are not well known: "In 1892 D. R. Wilkins edited the "Christian Soldier." In 1906, R. E. Pearson edited a "Christian Soldier.""
For the Columbia (Tennessee) Riot see pages 1,2 of the March issue.
Publisher
National Christian Missionary Convention
City
Nashville, Tennessee
Keywords
Christian Plea, Merl R. Eppse, D. I. Reid, National Christian Missionary Convention, Stone-Campbell African American Periodicals, Sere Stacy Myers, Columbia (Tennessee) Riot
Recommended Citation
Eppse, Merl R., "Christian Plea, January - December 1946 (Volume 53, Number 5 - Volume 54, Number 4)" (1946). Christian Plea. 29.
https://digitalcommons.discipleshistory.org/christianplea/29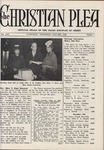 COinS