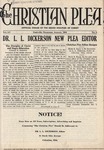 Description
Christian Plea, January - December 1948 (Volume 55, Numbers 5 - 11)
The DCHS collection is missing the February and March issues of this year. Perhaps they there were not published during these months because of the transition of editors and the relocation of the publication from Nashville to Columbus, Ohio?
With the January number, Dr. Lloyd Lincoln Dickerson of Columbus, Ohio, replaces Merl R. Eppse as Editor of the Christian Plea.
A new motto appears on the Editorial page, "Right Makes Might," during Dickerson's tenure, replacing "Official Organ of the Negro Disciples of Christ" on the first page.
Dickerson, among other things, in his April editorial, states, "We urgently solicit the cooperation of our white brethren, in order that the Plea will be a "Brotherhood" paper and not a "Negro" paper.
Publisher
National Christian Missionary Convention
Keywords
Christian Plea, Lloyd Lincoln Dickerson, Merl R. Eppse, National Christian Missionary Convention, Stone-Campbell African American Periodicals
Recommended Citation
Dickerson, Lloyd L., "Christian Plea, January - December 1948 (Volume 55, Numbers 5 - 11)" (1948). Christian Plea. 31.
https://digitalcommons.discipleshistory.org/christianplea/31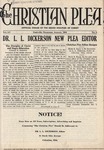 COinS