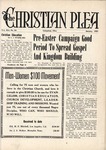 Description
Christian Plea, January - December 1951 (Volume 41 [sic], Numbers 24 - 35)
The DCHS collections lacks the May issue.
Suggestions on the preacher shortage and training appear on page 2, March issue; page 2, December/January issue.
The thirty-fifth annual National Christian Missionary Convention met in Indianapolis in August.
Page 1 of the November issue has a photograph of the Preston Taylor Memorial Fellowship House on Rookwood Avenue, Indianapolis, Indiana, the home for African American students attending Butler University.
Publisher
National Christian Missionary Convention
Keywords
Lloyd Lincoln Dickerson, D. W. Heath, African American Periodicals, National Christian Missionary Convention of the Disciples of Christ, Stone-Campbell Movement Periodicals, Christian Plea, Preston Taylor Memorial Fellowship House
Recommended Citation
Dickerson, Lloyd L. and Heath, D. W., "Christian Plea, January - December 1951 (Volume 41 [sic], Numbers 24 - 35)" (1951). Christian Plea. 34.
https://digitalcommons.discipleshistory.org/christianplea/34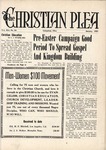 COinS