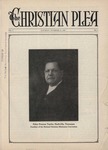 Description
Christian Plea Volume 1 (November 1926 - October 1927)

The editorial staff includes Vance G. Smith, Editor; Associate editors are Mary E. Taylor, H. L. Herod and J. B. Lehman.
A regular column is From the Banks of Old Kentucky by C. H. Dickerson.
Information on the African American schools appears often. These schools include Southern Christian Institute, Jarvis Christian College, Piedmont Christian Institute, and Central Christian Institute.
Publisher
National Christian Missionary Convention
Keywords
Mary E. Taylor, H. L. Herod, J. B. Lehman, Christian Plea, Southern Christian Institute, Jarvis Christian College, Piedmont Christian Institute, Central Christian Institute, Vance G. Smith
Recommended Citation
Smith, Vance G., "Christian Plea Volume 1 (November 1926 - October 1927)" (1926). Christian Plea. 9.
https://digitalcommons.discipleshistory.org/christianplea/9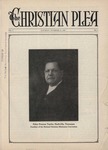 COinS