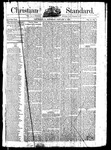 Description
Christian Standard, Volume 3, Number 1 -13 (January 4 - March 28, 1868) pages 1 -104.
William Theodore Horner is Corresponding Editor.
Page 21 "To Subscribers" noted, "We are now printing six thousand copies per week, and are certain of a thousand additional names within the next three months. Our readers will share in our satisfaction over this prosperity...No weekly journal among us has ever run up such a subscription in the first two years of its history...But we still need more subscribers. Send them on."
[This optimism was unrealistic since "Within two years, [the Christian Standard] amassed such indebtedness that the incorporators were happy to turn the assts over to Isaac Errett, if he would be willing to assume the debt." (Henry E. Webb, "Christian Standard," Encyclopedia of the Stone-Campbell Movement 197.)
Publication Date
1-4-1868
Publisher
Christian Standard
Keywords
Christian Standard, Isaac Errett, Cleveland, Ohio, Stone-Campbell Movement Periodicals, William Theodore Horner, Christian Standard Subscriptions
Recommended Citation
Errett, Isaac and Horner, William Theodore, "Christian Standard, Volume 3, Number 1 -13 (January 4 - March 28, 1868) pages 1 -104." (1868). Christian Standard. 11.
https://digitalcommons.discipleshistory.org/christianstandard/11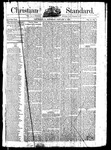 COinS