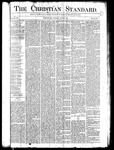 Description
Christian Standard, Volume 6, Numbers 1 - 13 (January 7 - April 1, 1871) Pages 1 - 104.
Isaac Errett of Cincinnati, Ohio, and James Sanford Lamar of Augusta, Georgia, are editors.
OCR on these PDFs is sketchy because the images were made from microfilm, not the original volumes. Our goal is to scan the originals once we have a large format scanner.
Be sure to use the Christian Standard Index to look up topics, places, and people.
A written discussion between J. S. Lamar (Christian) and M. A. Goodrich (Universalist) appears in these numbers.
George Washington Linton (? - 1885), as a solution for teaching congregants to sing better, proposes his training for young men to learn music fundamentals well enough to teach their congregants to sing better. (A New Proposition, page 26.)
Pardee Butler holds forth on "The Peril of this Reformation" in several parts. (See page 41)
Publication Date
1-7-1871
Publisher
R. W. Carroll & Co.
Keywords
Christian Standard, Isaac Errett, Cincinnati, Ohio, Stone-Campbell Movement Periodicals, James Sanford Lamar, Pardee Butler, Gearge Washington Linton
Recommended Citation
Errett, Isaac and Lamar, James Sanford, "Christian Standard, Volume 6, Numbers 1 - 13 (January 7 - April 1, 1871)" (1871). Christian Standard. 7.
https://digitalcommons.discipleshistory.org/christianstandard/7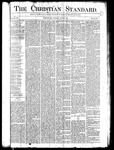 COinS