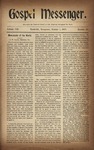 Description
Gospel-Messenger-8-39-October-1-1897
"The Tennessee Christian Missionary Co-operation" by A. I. Myhr (pages 2, 3) gives the history, purpose and principles of the organization.
In "Louisiana Notes," Frank Lanehart announces he is leaving the state to live in a dry climate because of "bronchal trouble." He hopes James Tracy McKissick will accept the call to become the Louisiana State Evangelist.
James Madison Watson's editorial (page 8) reports on the Tullahoma Convention.
An obituary for Richard Winn Dunlap appears on page 11.
Publication Date
10-1-1897
Publisher
Messenger Publishing Company
City
Nashville, Tennessee
Keywords
M. F. Harmon, O. P. Spiegel, Nashville, Tennessee, Southern Stone-Campbell Congregations, Stone-Campbell Movement Periodicals, Messenger Publishing Company, Nashville, Tennessee, James Madison Watson, A. I. Myhr, Frank Lanehart, James Tracy McKissick, Richard Winn Dunlap
Recommended Citation
Harmon, Marion F.; Watson, James M.; and Spiegel, Oscar P., "Gospel-Messenger-8-39-October-1-1897" (1897). Gospel Messenger. 39.
https://digitalcommons.discipleshistory.org/gospelmessenger/39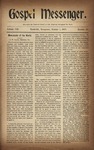 COinS