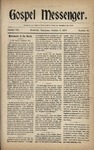 Description
Gospel-Messenger-8-40-October-8-1897
On page 2 C. Lee Crum replies to criticism about an address in which he suggested expediency allows the use of instruments in worship.
J. D. Patton is holding music schools in Mississippi, per page 3.
Page 5 has "The Catechism" by A. I. Myhr, in which he explains the advantages of the Tennessee Christian Missionary Convention.
Publication Date
10-8-1897
Publisher
Messenger Publishing Company
City
Nashville, Tennessee
Keywords
Marion Franklin Harmon, Oscar Pendleton Spiegel, Nashville, Tennessee, Southern Stone-Campbell Congregations, Stone-Campbell Movement Periodicals, Messenger Publishing Company, Nashville, Tennessee, James Madison Watson, A. I. Myhr, Charles Lee Crum, Instrumental Music
Recommended Citation
Harmon, Marion F.; Watson, James M.; and Spiegel, Oscar P., "Gospel-Messenger-8-40-October-8-1897" (1897). Gospel Messenger. 40.
https://digitalcommons.discipleshistory.org/gospelmessenger/40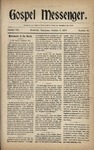 COinS