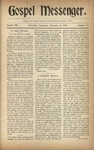 Description
Gospel-Messenger-8-45-November-12-1897
Articles on pages 1 and 2 by Alonzo Melville Atkinson, B. B. Tyler and Asa L. Orcutt stress the need to support older ministers and their families. Atkinson (1833 - 1899) and Orcutt (1852 - 1918) were especially strong advocates for "ministerial relief."
J. M. Watson's editorial "The Christian Quarterly" urges more Southern preachers, especially the young preachers, to subscribe to and read the Christian Quarterly. (Page 8)
Noteworthy is "Does It Pay to Educate Negroes" on page 10, which features the educational progress of Willie Scott, first at Southern Christian Institute, then at Hiram College.
Publication Date
11-12-1897
Publisher
Messenger Publishing Company
City
Nashville, Tennessee
Keywords
Asa L. Orcutt, Alonzo Melville Atkinson, The Christian Quarterly, Marion Franklin Harmon, Oscar Pendleton Spiegel, Nashville, Tennessee, Southern Stone-Campbell Congregations, Stone-Campbell Movement Periodicals, Messenger Publishing Company, Nashville, Tennessee, James Madison Watson
Recommended Citation
Harmon, Marion F.; Watson, James M.; and Spiegel, Oscar P., "Gospel-Messenger-8-45-November-12-1897" (1897). Gospel Messenger. 45.
https://digitalcommons.discipleshistory.org/gospelmessenger/45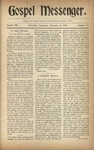 COinS