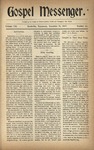 Description
Gospel-Messenger-8-46-November-19-1897
On pages 2 and 3, James Albert Minton (later Judge Minton) (1862 -1952) replies to David Lipscomb's article in the Gospel Advocate regarding Minton's arguments in the Elam-Minton written debate held in the Gospel Advocate. Lipscomb refused to print Minton's reply to Lipscomb, so asks it be printed in the Gospel Messenger.
Kilby Ferguson notes that C. W. Sadler from Garden City, Mississippi, is to "take as much of my field as he can handle." Sadler is active in Mississippi as early as 1884. (Page 7.)
In editorials on page 8, M. F. Harmon passes the editorial mantle to J. M. Watson. Harmon states, "Only one thing has caused this change on my part, and that is my worn out and nervous condition."
On pages 10 and 11, William Henry Sandy reports on a proposed debate on baptism between F. B. Srygley and M. H. Honnell (Methodist).
Publication Date
11-19-1897
Publisher
Messenger Publishing Company
City
Nashville, Tennessee
Keywords
Kilby Ferguson, F. B. Srygley, M. H. Honnell, C. W. Sadler, David Lipscomb, Gospel Advocate, Judge James Albert Minton, Marion Franklin Harmon, Oscar Pendleton Spiegel, Nashville, Tennessee, Southern Stone-Campbell Congregations, Stone-Campbell Movement Periodicals, Messenger Publishing Company, Nashville, Tennessee, James Madison Watson
Recommended Citation
Harmon, Marion F.; Watson, James M.; and Spiegel, Oscar P., "Gospel-Messenger-8-46-November-19-1897" (1897). Gospel Messenger. 46.
https://digitalcommons.discipleshistory.org/gospelmessenger/46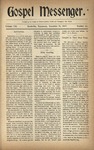 COinS