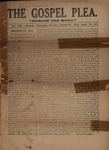 Description
Gospel Plea, Volume 19 (1914)
"This issue of the Plea is the first issue of sixteen pages run off on the new press on one sheet." (Page 3 of the January 10 Number.) The number of pages returned to eight later this year.
The DCHS collection is missing a significant number of the issues of Volume 19. Only eight issues are in our collection.
The editorial team this year includes, in addition to Lehman, Preston Taylor, W. H. Dickerson, Mrs. William Alphin and K. R. Brown as Associate Editors.
Publisher
Southern Christian Institute
City
Edwards, Mississippi
Keywords
K. R. Brown, Mrs. William Alphin, W. H. Dickerson, Preston Taylor, African American Periodicals, Edwards, Mississippi, Stone-Campbell Movement Periodicals, Southern Christian Institute, Gospel Plea, Joel Baer Lehman
Recommended Citation
Lehman, Joel Baer, "Gospel Plea, Volume 19 (1914)" (1914). Gospel Plea. 23.
https://digitalcommons.discipleshistory.org/gospelplea/23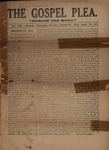 COinS