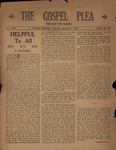 Description
Gospel Plea, Volume 22 (1917) (Serial numbers 279 - 329)
336 Pages in this PDF.
The World War is prominent in this volume.
This quote from Lehman's December 22, 1917, Editorial is interesting:
"Every Christian Negro should thank God and take new courage. This great war is a centrifugal, not a centripetal force for our national life. When we went into the war our secret service discovered an army of German spies trying to alienate the Negro. This set our people to thinking. President Wilson, though a Southern man, saw clearly what is just and wise and so he insisted on putting the Negro on an equal footing with the white man. Of course there will grow up some friction by some of the people who do not know that the world has moved, but when they get into a drive such as the Italians have suffered the question of saluting officers will take care of itself."
Publisher
Southern Christian Institute
City
Edwards, Mississippi
Keywords
World War I, African American Periodicals, Edwards, Mississippi, Stone-Campbell Movement Periodicals, Southern Christian Institute, Gospel Plea, Joel Baer Lehman
Recommended Citation
Lehman, Joel Baer, "Gospel Plea, Volume 22 (1917)" (1917). Gospel Plea. 26.
https://digitalcommons.discipleshistory.org/gospelplea/26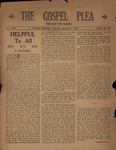 COinS