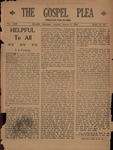 Description
Gospel Plea, Volume 23 (1918) (Serial Numbers 331 - 382)
Page 5 of Serial Number 331 (January 5, 1918) reports on the progress of the new church building at Hopkinsville, J. E. Anderson minister. We wish to know more about this African American preacher, who appears occasionally in the Gospel Plea.
The last issue of this volume, Serial Number 382 (December 28, 1918) has this somber report by C. H. Dickerson in his column From the Banks of the Old Ky.
"Kentucky is shot through with hysterical influenza...Homes resent being placarded...Ban is still on. When lifted many will fear to to attend church lest they touch somebody, who has touched somebody, who has touched somebody else who had the Flu."
Publisher
Southern Christian Institute
City
Edwards, Mississippi
Keywords
Spanish Influenza, C. H. Dickerson, J. E. Anderson, African American Periodicals, Edwards, Mississippi, Stone-Campbell Movement Periodicals, Southern Christian Institute, Gospel Plea, Joel Baer Lehman
Recommended Citation
Lehman, Joel Baer, "Gospel Plea, Volume 23 (1918) (Serial Numbers 331 - 382)" (1918). Gospel Plea. 27.
https://digitalcommons.discipleshistory.org/gospelplea/27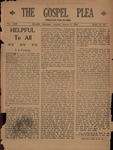 COinS