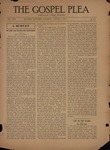 Description
Gospel Plea, Volume 23 [sic] (1919) (Serial Numbers 384 - 434)
The editor, for an unknown reason, in this and following years, labels every issue Volume 23, abandoning the sequence established in earlier years.
Pages one and two of the January 11 issue (Serial Number 385) deal with a controversy about African Americans and the railroads.
This volume, on the next to last page, has a full page on Instrumental Music. Disagreements on instrumental music in the congregations at Tupelo and Baldwyn caused the editor to write (or perhaps copy) the detailed pro-instrument arguments.
Publisher
Southern Christian Institute
City
Edwards, Mississippi
Keywords
Creed in the Deed, Tupelo Christian Church, Baldwyn Christian Church, Railroad Restrictions for African Americans, Instrumental Music, African American Periodicals, Edwards, Mississippi, Stone-Campbell Movement Periodicals, Southern Christian Institute, Gospel Plea, Joel Baer Lehman
Recommended Citation
Lehman, Joel Baer, "Gospel Plea, Volume 23 [sic] (1919) (Serial Numbers 384 - 434)" (1919). Gospel Plea. 28.
https://digitalcommons.discipleshistory.org/gospelplea/28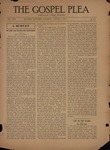 COinS