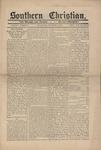 Description
Southern Christian, Volume 5, Number 62 (December 12, 1896)
Pages 1 and 2 give the Minutes of the Eighteenth Annual Convention of the Christian Church of Georgia, held in Athens, Georgia, November 23-26, 1896.
Obituaries for Miss Jannie Wilson (1873-1896) and Bryan Spencer Rutledge (1809-1896).
Several articles address drunkenness.
Publication Date
12-12-1896
Publisher
Southern Christian Printing and Publishing Co.
Keywords
Charles P. Williamson (1848-1903), Southern Christian, Stone-Campbell Movement Periodicals, Stone-Campbell Prohibition Periodicals, Southern Christian Printing and Publishing Co., Miss Jannie Wilson (1873-1896), Bryan Spencer Rutledge (1809-1896)
Recommended Citation
Williamson, Charles P., "Southern Christian, Volume 5, Number 62 (December 12, 1896)" (1896). Southern Christian. 3.
https://digitalcommons.discipleshistory.org/southernchristian/3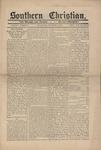 COinS