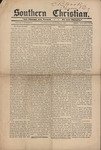 Description
Southern Christian, Volume 5, Number 63 (December 19, 1896)
Williamson mentions a letter from Thomas Munnell (1828-1898), who was the first person hired as a state evangelist (for Ohio) in spite of stiff opposition to the innovation at the Lexington, Kentucky convention in 1863.
Page 4 notes a change in editors for the Christian Guide, from William James Loos (1851-1930) to H. King Pendleton.
Publication Date
12-19-1896
Publisher
Southern Christian Printing and Publishing Co.
Keywords
Charles P. Williamson (1848-1903), Southern Christian, Stone-Campbell Movement Periodicals, Stone-Campbell Prohibition Periodicals, Southern Christian Printing and Publishing Co., Thomas Munnell (1828-1898), William James Loos (1851-1930), H. King Pendleton, Controversy about Hiring State Evangelists in Stone-Campbell Movement
Recommended Citation
Williamson, Charles P., "Southern Christian, Volume 5, Number 63 (December 19, 1896)" (1896). Southern Christian. 4.
https://digitalcommons.discipleshistory.org/southernchristian/4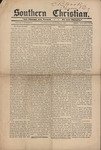 COinS